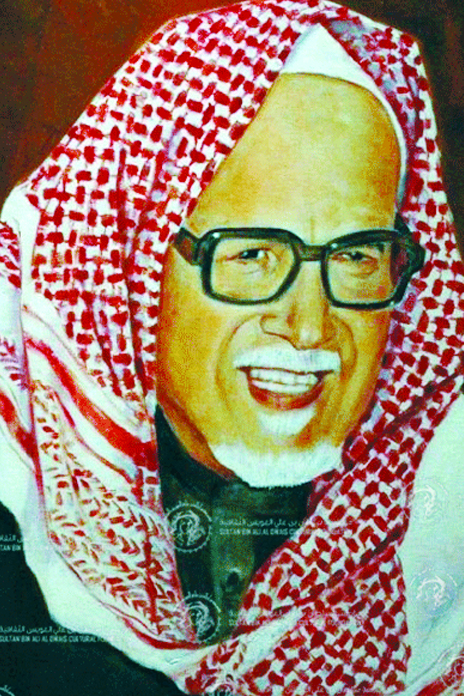 FOURTH SESSION 1994 – 1995
Cultural & Scientific Achievments
Born in Al Burood Village, located at the northern part of Al Qassim region, KSA, in 1330 H.

Throughout his childhood he suffered from sickness and poverty, to the extent that his family dug a grave for him four times, thinking that he will not survive. However, he managed to recover from his illness and in 1341 H his father sent him to study in Riyadh.

When he completed his studies at the Saudi Islamic Institute he taught in Yanbu' for 4 years from 1353 H to 1357 H.

In 1357 H he was appointed as a judge in the city of Duba in the northern Hejaz region, but his passion for knowledge and learning lead him to travel to Cairo, where he joined the Faculty of Arts in 1358 H.

He published Al Yamama Magazine in 1372 H.

In 1374 H he established "Al Riadh Press"; the first printing press in Riyadh.

In 1375 H he developed his project and turned "Al Yamama" magazine into a weekly publication.

He launched "Al Riyadh" daily newspaper in 1385 H.

He is considered to be one of the pioneers of enlightenment in the Arabian Peninsula.
Decision of the General Secretariat : 
The Board of Trustees of the Sultan Bin Ali Al Owais Cultural Foundation, in its meeting (held on Wednesday October 18, 1995) has decided to grant the Sultan Bin Ali Al Owais Award for Cultural and Scientific Achievement for this session to thinker and scholar Sheikh Hamad Al Jassir in recognition of his status as a pioneering cultural and scholarly figure in his homeland, the Kingdom of Saudi Arabia and in the Arab world. His relentless efforts and numerous contributions to Arab culture over the span of half a century have included establishing "Al Yamama" newspaper, "Al Riyadh" daily and "Al Arab" magazine. He also established the first printing press in Najd, which later evolved into a publishing house. He authored tens of influential publications, researches and studies that had a great impact on the cultural field in the Kingdom of Saudi Arabia and beyond, and which became a reference for many scholars and academics.
Over the span of his career, Al Jasser has held various positions whether in the educational sector of in the fields of law, journalism or publishing. He served his homeland and his nation through the different posts he held and through his project regarding geographical and historical research on the Arab Peninsula.
Hamad Al Jasser had a unique writing style that faithfully delivered information that is backed by historical and evidence along with thorough analysis. He does not use rhetoric at the expense of presenting scientific truths in the most straight-forward way, and without subjecting the reader to any form of confusion or vagueness.
Apart from being a distinguished author, Al Jasser is also known to be a trustworthy researcher who has checked and reviewed many heritage texts and historical manuscripts.
One of Al Jasser's most prominent achievements is examining and verifying the following books: "Al Barq Al Yamani fil Fath Al Uthmani", "Bilad Al Arab" (Cities of Arabia), "Al Manasik Fee Tahded Amaken Al Haj" (Rituals in Determining Hajj Sites) and "Ma'alim Al Jazeerah" (Landmarks of the Arabian Peninsula), as well as authoring the Geographical Dictionary of Saudi Arabia (8 volumes and 21 books), he continues to write more volumes despite his old age in addition to tens of books and "Al Arab" magazine volumes (30 so far). Through his writings, he succeeded in clearing many misconceptions about the Arab peninsula, making his works a source of reference for various Arab scholars and scientific institutions.
Sheikh Hamad Al Jasser has dedicated most of his life to writing and scholarly research, a characteristic that has made him stand out among numerous scholars in his field. He gained great acclaim, both in the Arab world and beyond. His prestigious scholarly status has made him a source of reference for the geography and history of the Arab Peninsula. Many leading Arab and foreign thinkers wrote about him and his work and he was selected as a member in many Arab Scientific Academies. He is a member of the Arab Scientific Academy in Damascus (since 1951), the Iraqi Scientific Council (since 1954) and the Arabic Language Academy in Cairo (since 1958) as well as many other Arab academies and institutions.
Due to his admirable life journey, distinguished career and outstanding achievements (with a repertoire of 1117 works that include researches, articles, studies, reports, books and volumes), the Sultan Bin Ali Al Owais Cultural Foundation sees that Sheikh Hamad Bin Mohammed Bin Hasser Bin Ali Al Jasser (also known as Hamad Al Jasser) is the best person to represent the Cultural and Scientific Achivement Award for this session (1994-1995). We grant him the award in recognition of his outstanding achievements and ongoing research, studies and investigations, as well as his contribution to various scientific and linguistic institutions in the Arab world, He is indeed a great scientist, scholar and human being who has left a rich legacy for the coming generations.
"Abu Ali Al Hijri wa Abhathuh Fee Tahdeed Al Mawade': Athar Al Hajj fee Nashr Al Thaqafa" (Abu Ali Al Hijria and his Research on Determining Sites: The Impact of Pilgrimage on Promoting Culture).

"Al Imam Abu Ishac Al Harbi wa Kitabih fil Manasik wa amaken Turuq Al Haj wa Ma'alim Al Jazeera" (Imam Abu Ishac Al Harbi and his book on Pilgrimage Rituals, Hajj Routes and Landmarks of the Arabian Peninsula).

"Al Barq Al Yamani Fil Al Fath Al Uthmani"

"Bilad Al Arab" (Cities of Arabia) by Al Hassan Al Asfahani.

"Yanbu"

"Jamharat Ansab Al Osar Fi Najd" (Genealogy of Najd Families).

"Al Durar Al Fara'ed Al Munadama fi Akhbar Al Hajj wa Tariq Makka Al Mu'athama" (News of Pilgrimage and the Route to Holy Makkah).

"Al Mu'jam Al Joghraphy lil Bilad Al Arabiyya Al Saudiyya –Shamal Al Mamlaka: Emrat Hayel wal Jouf wa Tabuk wa Arar wal Qaryat" (The Geographic Dictionary of Northern KSA: Ha'il, Al Jawf, Tabuk, Arar and Al Qurayyat).

"Al Mu'jam Al Joghraphy lil Bilad Al Arabiyya Al Saudiyya: Muqaddima Tahwi Asma' Al Mudun wal Qura wa Aham Mawarid Al Badiya" (The Geographic Dictionary of KSA: An Introduction that includes names of towns, villages and desert resources)

"Mu'jam Al Shoyoukh: Mu'jam Qab'el Al Mamlaka Al Arabiyya Al Saudiyya" (Dictionary of Sheikhs: Dictionary of KSA Tribes)

"Muqtatafat Min Rihlat Al Ayyashi" (Excerpts from Al Ayyashi's Voyage).

"Mulakhas Rihlatay Ibn Abdul Salam Al Dar'i Al Maghribi" (A Summary of the Two Voyafes of Ibn Abdul Salam Al Dar'i Al Maghribi).

"Min Akhbar Al Hijaz wa Najd fee Tareekh Al Jabarti" (News of Hejaz & Najd in Al Jabarti History).
He passed away on September 14, 2000.