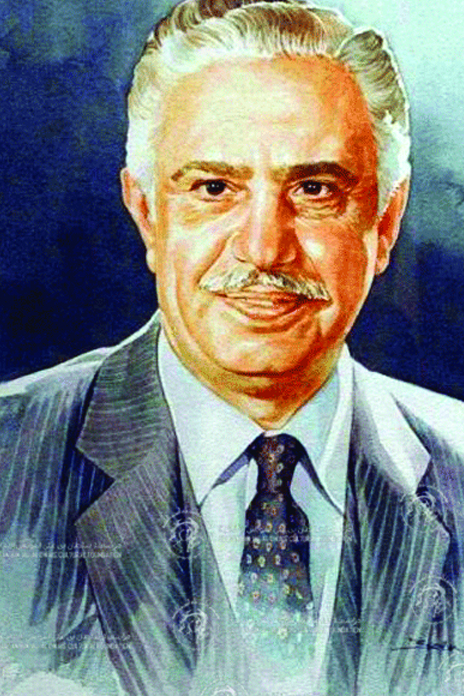 FOURTH SESSION 1994 – 1995
Cirtisism & Literature Studies
Born in 1923 in Aqaba.

Held several academic, literary and political positions.

Correspondent member of the Arab Academy of Damascus since 1969.

Member of the Arabic Language Academy in Cairo 1973.

Board member of the Palestinian Encyclopedia 1974.

Correspondent Member of the Indian Scientific Academy in Aligarh 1976.

Member of the Jordanian Arab Language Academy since 1979.

Member of the Academy of Kingdom of Morocco 1988.

Member of the International Advisory Board of Al Furqan Islamic Heritage Foundation in London since 1991.

Member of The Royal Committee of Al al-Bayt University for Science and Humanities

Member of The Royal Committee for Jerusalem Affairs 1994

Head of the Royal Institute for Islamic Culture Studies (Al al-Bayt Foundation)

Honorary Member of the Arabic Language Academy of China 1994.
Cultural Posts
Undersecretary of the Cultural Department of the Arab League in Cairo 1954-59.

Assistant Manager for Cultural Affairs, the Arab League Educational, Cultural and Scientific Organization 1968-1977.
Academic Posts
Dean of the Faculty of Arts and Education in the Libyan University, Benghazi, 1959-1961.

President of the Jordanian University (1962-1968 & 1978-1980).

President of Al Ahliyya Amman University, 1991-1993.

Honorary professor at Jordanian Universities.
Important Awards
Taha Hussein Award (1947)

Silver Jubilee Certificate- Jordan (1977)

King Faisal International Award (1982)
Decision of the General Secretariat : 
The jury decided to grant the literary research and criticism award to Dr. Nasir Al Din Al Assad in recognition of his contribution to the field of knowledge, his great impact on scientific circles and academic life and his strong presence in cultural and ideological arenas; as well as the innovation, depth and thoroughness that characterize his books and researches, all of which have made his works an important reference in the world of literary research and criticism. Furthermore, Dr. Nasir Al Din Al Asad has contributed to establishing a number of Arab colleges and cultural centers, and has developed forums for open and enlightened dialogue between nations, ideologies and religions.
"Masadir Al Shi'r Al Jahili wa Qeematha Al Tarikhiyya" (Sources of Pre-Islamic Poetry and their Historical Significance".

"Al Ittijahat Al Adabiyya Al Hadeetha Fee Falasteen Wal Urdun" (Modern Literary trends in Palestine & Jordan).

"Al Qiyyan wal Ghina' Fil Asr Al Ajahili" (Songstresses and Singing in the Pre-Islamic Era).

"Al Shi'r AL Hadeeth fee Falasteen" (Modern poetry in Palestine).

"Mohammed Rouhi Al Khaledi".

"Tasawwurat Islamiyya fil Ta'leem Al Jame'y wal Bahth Al Ilmi" (Islamic Perceptions of College Education and Scientific Research).
Studies
"Tareekh Najd: Tahrir Wa Tahqeeq" (History of Najd)

"Diwan Qais Bin Al Khottaim" (The Poetry Book of Qais Bin Al Khottaim).

"Diwan Shi'r Al Hadera, Mushaf Al Shurooq Al Mufassar Al Muyassar: Tahrir Wa Tahqeeq Li Mukhtasar Ibn Samadeh Al Tajeebi Al Andalusi li Tafsir Al Imam Al Tabari" (Al Hadera Poetry Book).
Translations and References
"Yakathat Al Arab" ( The Arab Awakening)

"Libya Al Hadeetha" (Modern Libya)

A great number of researches and articles.
He passed away on May 21, 2015.