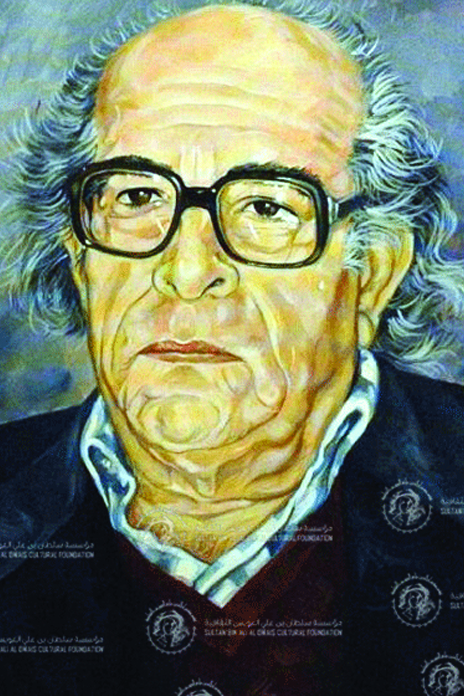 FOURTH SESSION 1994 – 1995
Stpries Novels & Drama
Born on March 16, 1926 in Alexandria, Egypt.

Novelist, story writer and literary and art critic.

He obtained a Law degree from Alexandria University (Farouk the First University) in 1946.

While studying, he worked at the storehouse of the British Navy in Qabbari district in Alexandria before becoming an employee at Al Ahli bank in Alexandria, where he worked until 1948.

He later worked at the National Insurance Company of Egypt.

In 1959, he joined the Afro-Asian Solidarity Organization, and later joined the Afro-Asian Writers Union in 1983. He resigned after becoming Assistant Secretary General for both organizations. He also remained as an adviser for both organizations for some time.

He contributed to publishing and editing "Lotus" magazine for Afro-Asian literature and "Gallery 68"

Published many studies, articles and translations in various Egyptian and Arab Magazines.

He was a visiting Professor at St. Anthony College, Oxford in the spring of 1979.

His novel, "Rama Wal Tinneen" (Rama and the Dragon) was taught at Paris University from 1984 to

In 1973, he won the State Award for Short Stories and the French-Arab Friendship Award in 1991.
Decision of the General Secretariat : 
The Board decided to grant the Novel award to novelist Edward Al Kharrat in recognition of his outstanding achievement as a writer and his unique ability to harmonize various components of his literary experience. Al Kharrat's literary talent is vividly reflected in the unified vision that informs his various writings. He does not mimic any literary approach or imitate the writing style of any other author. He is very well-versed in the novel form and is quite innovative with it and can masterfully connect the outer and inner elements of narrative fiction and successfully reflect the spirit of the age and the problems faced by intellectuals. His writing embodies how literature transcends reality, in the aim of achieving a freer, more glorious and humane world.
Short Stories and Novels
'Hitan Aaliya" (High Walls), stories.

"Sa'at Al Kibriya'" (Hours of Pride), stories.

"Rama Wal Tennin" (Rama and the Dragon), novel.

"Ikhtinaqat Al Ishq Wal Sabah" (Suffocation of Love and Morning), stories.

"Al Zaman Al Aakhar" (The Other Time), novel.

"Mahatat Al Sikka Al Hadeed" (The Railway Station), novel.

"Torabaha Za'faran" (City of Saffron: Alexandrian Texts), prose.

"Adla' Al Sahra'" (Ribs of the Desert),

"Ya Banat Iskandariyya" (Girls of Alexandria), novel.

"Makhlooqat Al Ashwaq Al Ta'ira" (Flying Creatures of Yearning), novel.

"Amwaj Al Layali" (The Waves of the Nights), succession narrative.

"Hijarat Bobello" (Stones of Bobello), novel.

"Ikhtaraqat Al Hawa wal Tahluka" (Penetrated by Love and Distress), novel.

"Raqraqat Al Ahlam Al Malhiyya" (Fluttering of Salty Dream), novel.

"Abniya Mutatayira" (Flying Buildings), novel.

"Hareeq Al Akhyila: Riwayat Iskandariyyati" (Visions Burnt: My Alexandria novel), narrative collage.
Studies
"Mukhtarat Min Al Qisa Al Qasira fil Sab'inat" (Selected Short Stories from the 1970s).

"Adli Rizqallah: Ma'iyat 86).

"Ma'iyyat Sagheera".

"Ahmed Morsi: Dirasa wa Mukhtarat Shi'riyya" (Ahmed Morsy: A Study and Selected Poems).

"Min Al Samt Ela Al Tamarrod: Dirasat Fil Adab Al Ilmi" (From Silence to Rebellion: Studies on Scientific Literature).

"Al Hasasiya Al Jadeeda: Maqalat fil Thahira Al Qasasiyya" (The New Sensitivity: Articles on the Short Story Phenomenon).

"Al Kitaba Abr Al Naw'iyya" ( Cross-genre Writing)

"Ma wara' Al waqi': Maqalat fil Thahira Alla Waqi'iyya" (Beyond Reality: Articles on the Anti-Realism Phenomenon)
Translations
"The Missing Letter", a play by A. L. Cargialli.

"War and Peace" by Leo Tolstoy.

"The Gipsy and the Night" (Romanian short stories).

"Bitter Honeymoon" (Italian short stories)

"Faralako: A Novel about a small Guinean Villahge" by Emile Emile Cissé.

"The Naked Streets", a novel by Vasco Pratolini.

"The Seagull", a radio play.

"The Misunderstanding", a radio play.

"The Seige", a radio play.
He passed away on December 1, 2015.