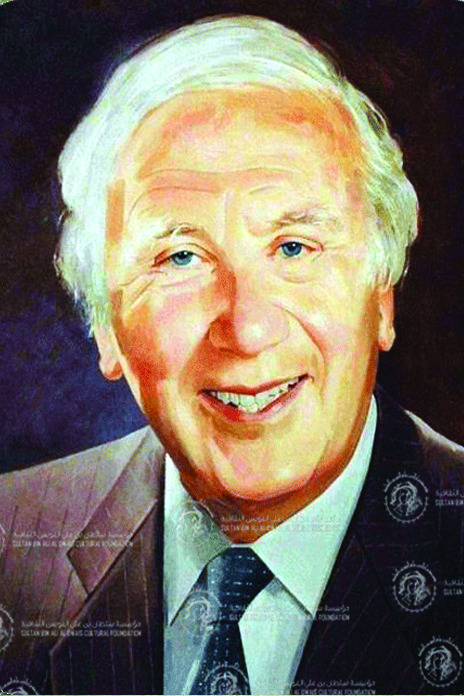 THIRD SESSION 1992 – 1993
Cultural & Scientific Achievement 
Born in Damascus on March 21st, 1923.

Studied Law at Damascus University and graduated in

After graduating from University, he joined the Syrian Foreign Ministry where he held several diplomatic positions in Cairo, London, Madrid, Peking and Beirut

He resigned from diplomatic work in the spring of 1966 to establish a publishing house in Beirut, which carried his name. From then on, his only occupation became poetry.

He started writing poetry in 1939 at the age of 16 and issued his first poetry collection, 'Qalat liya Al Samraa' (The Brunette Said to Me) in 1944, which sent shockwaves through the Arabic poetry scene due to its unprecedented form and content .

He was forced to leave Beirut in 1982 due to the outbreak of the Lebanon war. As a result, he moved to Switzerland and the UK.

After the 1967 defeat the themes of his poetry shifted from romance to politics, resistance and rejection of the status quo. Since that time his poetry has brought together both romantic and political themes.

His complete works are all contained in 8 volumes.

Many of his works have been translated into other languages.
Decision of the General Secretariat : 
Having reviewed the 45 nominees for the Sultan Bin Ali Al Owais Award for Cultural and Scientific achievement, who come from   all fields and all Arab Countries for the year 1992-1993, the Board of Trustees of the Sultan Bin Ali Al Owais Cultural Awards decided to grant the award to poet Nizar Qabbani.
The Board took its decision in appreciation of Qabbani's pioneering role and his inspiring work over the span of 50 years. He is a pioneer of innovation in contemporary Arabic poetry. Since releasing his debut poetry collection, 'Qalat Liya Al Samraa' (The Brunette Said to Me) in 1944, he has made radical changes to the form and content of Arabic poetry. Since then he has been a pioneer of innovation and has conquered new frontiers in the field of Arabic poetry.
In his early works, Qabbani mainly wrote Romantic poetry that departed in their depiction of love relationships from the traditional eloquence of Arabic discourse to the clarity of revelation and truth. However, the Poet did not forget the problems and concerns of his Arab Nation, especially after the 1967 defeat, on the contrary, he did his best to expose the flaws of Arab political life, as exemplified by his poem 'Hawamesh Ala Daftar Al Naksa' (Margins on the Notebook of Defeat), which gives a self-critique of Arab shortcomings.
In addition to the above, the Board sees that Qabbani's unique poetic style has also made one of the most popular, widely known and influential Arab poets. He helped make poetry accessible to all people of different backgrounds. Moreover, he created his very own poetic language that was akin to everyday-language. He addressed all classes of people, breaking through the barriers of fear that had isolated people from poetry, and made poetry enter every Arab home. The poetry evenings he held in Arab cities were a cultural phenomenon that underlined the fact that poetry plays an essential part in Arab life, thus highlighting the responsibility of Arab poets towards their audience.
For these reasons, the Board of Trustees of the Sultan Bin Ali Al Owais Cultural Foundation considers poet Nizar Qabbani worthy of representing the 'Cultural and Scientific Achievement Award' for this session (1991-1992) and grants him this Award for all his 41 works of poetry and prose, and for his ongoing contribution to Arab culture through his poetry, which is characterized by sincerity, simplicity, sophistication, depth and innovation all together.
Poetry
'Qalat Liya Al Samraa' (The Brunette Said to Me), 1944.

'Tufulat Nahid' (The Childhood of a Breast), 1948.

'Samba', 1949.

'Anti Lee' (You Are Mine), 1950

'Qasa'ed' (Poems), 1956.

'Habibati' (My Lover), 1961.

'Al Rasm Bil Kalimat' (Drawing With Words), 1966.

'Yawmiyyat Imra'a La Mubaliya' (Memoirs of an Indifferent Woman), 1968.

'Qasa'id Mutawahisha' (Wild Poems), 1970.

'Kitab Al Hob' (The Book Of Love), 1970.

'Ash'ar Kharija An Al Qanoon' (Poems Against the Law), 1972.

'Uhibak Wal Baqiyya Ta'ti' (I Love You, and The Rest is to Come), 1978.

'Ela Beirut Al Untha Ma' Hobi' (To Beirut, the Feminine, With My Love), 1978.

'100 Risalat Hob' (100 Love Letters), 1970.

'Kul Aam wa Anti Habibati' (May You Be My Love For Another Year), 1978.

'Ashhadu An la Imra'atan Illa Anti' (I Testify That There Is No Woman But you), 1979.

'Hakatha Aktub Tareekh Al Nisaa' (I Write the History of Woman Like So), 1981.

'Qamoos Al Asheqeen' (The Lovers Dictionary), 1981.

'Qaseedat Balqis' (A Poem for Balqis), 1982.

'Al Hob la Yakif ala Al daw' Al Ahmar' (Love Does Not Stop at Red Lights), 1985.

'Ash'ar Majnouna' (Crazy Poems), 1985.

'Sayabqa Al Hob Sayyidi' (Love Shall Remain My Master), 1987.

'Qasa'ed Maghdoub Alayha' (Scorned Poems), 1986.

'Tazawajtuk Ayyuha Al Hurriya' (I Married You O Liberty), 1988.

'Thulathiyyat Atfal Al Hijara' (Trilogy of Children of Stones), 1988.

'La Ghalib Illa Al Hob' (No Victor Except Love), 1990.

'Al Kebreet fee Yadi wa dowaylatukum Min Waraq' (A Match in My Hand and Your Petty Paper Nations), 1989.

Al-Awraq Al-Sirriya li Ashiq Qurmuti: Al Sira Al Thatiyya li Sayyaf Arabi (The Confidential Papers of a Lover: The Autobiography of an Arab Executioner), 1989.

'Hawamish Ala Daftar Al Hazima' (Marginal Notes on the Book of Defeat), 1991.

'Hal Tasma'eena Saheel Ahzani' (Can You Hear the Neighing of my Sorrows), 1991.

'Ana Rajul Wahid wa anti Qabila min Al Nisaa' (I am One Man and You are a Tribe of Women), 1993.
Prose
'Al Shi'r Qindeelun Akhdar' (Poetry is a Green Lantern), 1963.

'Qissati Ma'a Al Shi'r' (My Story with Poetry), 1970.

'An Al Shi'r Wal Jins Wal Thawra' (On Poetry, Sex And Revolution), 1971.

'Al Mar'a Fee Shi'ri wa fee Hayati' (Women in My Poetry and My Life), 1975.

'Al Kitaba Amal Inqilabi' (Writing is a Revolutionary Work), 1972.

'Shay' Min Al Nathr' (A Little Prose), 1974.

'La'ibt bi Itqan wa ha hiya mafateehy' (I Played Skillfully and Here are my Keys), 1975.

'Ma Huwa Al Shi'r' (What is Poetry?), 1976.