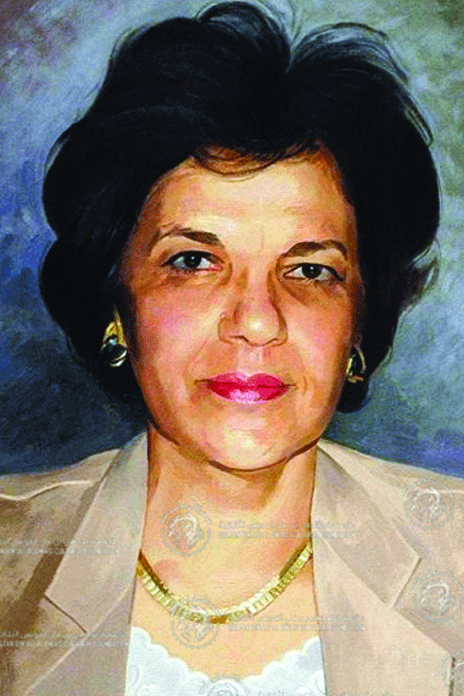 THIRD SESSION 1992-1993
Literary Studies and Criticism

Her real name is Hikmat Sabbagh Al Hakeem

Born in 1935 in Sidon, Lebanon.

She began writing and publishing her critical articles in the 1960s.

She graduated from the Lebanese University in 1958 and worked as a teacher.

In 1970, she published two books, the first of which was about Amin Al Rihani and the second about Qasim Amin.

In 1973, she was granted an award by the French Cultural

In 1977, she obtained her PhD in Arabic literature from Sorbonne University, before returning to the Lebanese University, where she continues to lecture to this day.

Her articles have been published in most well-known Arab publications such as 'Mawaqif', 'Al Karmal', 'Kalimat', 'Adab Wa Naqd', 'Shu'oon Adabiyya', 'Qadaya wa Shahadat', 'Al Aadab', 'Attareeq'.

She participated in numerous Arab and international conferences and symposiums and lectured at many Arab and Foreign Universities as a visiting professor.

Member of the Lebanese Writers' Union, the Southern Lebanese Cultural Center, the Center for Research and Documentation in Sidon, and the Author and Book Society in Beirut.

Member of Editorial Board of several Arab magazines.

In addition to her works of literary criticism she has authored and published short stories in several Arab magazines.
Decision of the General Secretariat : 
Dr. Yumna Al Eid's body of works reveals a deep understanding of modern critical methodologies. In her writing she shows keenness on applying theory to Arabic texts and great accuracy in using terminology. She also adds a great deal of personal perspective to her writings and gives meticulous attention to all elements of the literary text, in addition to including adequate references to introduce the Arab reader to theoretical basics. With such an approach that combines theory and informed practice with great attention to creative texts in the Arab world, Dr. Yumna deserves recognition for her contribution to Arab literary criticism.
'Mumarasat fil Naqd Al Adabi' (Practices of Literary Criticism) published by Dar Al Faraby.

'Al Dalala Al Ijtima'iya li Harakat Al Adab Al Romantiqi fee Lubnan' (Social Connotations of Romanticism in Lebanon) published by Dar Al Faraby.

'Fee Ma'rifat Al Nas' (Knowledge of the Text), published by Dar Al Afaq Al Jadeeda.

'Al Rawi: Al Mawqi' Wal Shakl' (The Narrator: Standpoint and Form) published by the Arab Research Foundation.

'On Poetic Discourse', published by Topcal.

'Taqniyat Al Sard Al Riwa'ee' (Narrative Techniques), published by Al Faraby publishing.

'Al Riwaya Al Arabiyaa Bayna Al Waqi' Wal Ideolojiyya' (The Arabic Novel between Reality and Ideology), joint authorship.

'Al Nas Al Maftouh' (The Open Text), joint authorship.

'Amin Al Rihani: Rahhalat Al Arab' (Amin Al Rihani, the Arab Voyager)

'Qasim Ameen: Islah Qawamat Al Mar'a' (Qasim Amin: The Status of Women)