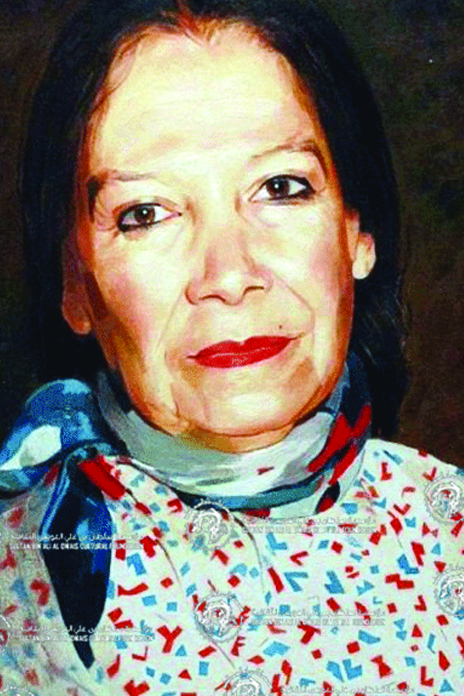 FIRST SESSION 1988-1989
Poetry
Born in Nablus, Palestine in 1917.

Her first mentor was her brother, Ibrahim Touqan, who had a great impact on her life and poetry.

In the late 1940s, she gave up the traditional structure and monotonous rhythm of classical Arabic poetry in favor of modern free verse, also known the 'Taf'ilah' poem, which she adopted throughout the remaining part of her career.

Following the death of her father in 1948, she developed a moderate interest in politics and began a new chapter of her career, in which she wrote patriotic poetry and managed to free herself from the shackles of extreme conservatism.
Decision of the General Secretariat : 
Poet Fadwa Touqan has been granted the Poetry Award, as her poetry reflects the various trends and aesthetic developments witnessed by Arabic poetry from the 1930s until today. Her poems were always open to modernizing trends in Arabic poetry. Touqan's poetry was open to novelty, experimentalism and development. She succeeded in bringing together the subjective existence and national causes. This is particularly evident in two of her poetry collections, 'Al Layl Wal Fursan' (The Night and Cavalrymen) and 'Ala Qimmat Aldunia Waheedan' (Alone at the Top of the World), which both reflect her stance on life and present a unique mixture between compliance and rebellion, and between bewilderment and doubt on one hand and faith in humankind and its ability to face its destiny and eventually triumph on the other hand. For half a century, Touqan revealed aspects of beauty in our language. She had a remarkable ability to accurately paint feelings, inner sentiments and national hopes while singing for love, fraternity, friendship and the homeland at the same time. She steadfastly held on to her bravery and her self-pride and believed in the ability of poetry to inspire optimism, permanence and perseverance.   
'Wahdi Ma'a Al Ayyam' (Alone with Days), 1952.

'Wajadtaha' (I've Found It), 1957.

'A'tina Huban' (Give Us Love), 1957.

'Amam Albab Almughlaq' (Against the Closed Door), 1958

'Al Layl Wal Fursan' (The Night and Cavalrymen), 1969

'Ala Qimmat Aldunia Waheedan' (Alone on the Top of the World), 1981

'Rihla Jabaliyya..Rihla Sa'ba' (A Mountain Journey… Tough Journey: An Autobiography- Prose), 1985.

'Al Rihla Al As'ab' (The Most Difficult Journey, Autobiography), 1993.
She passed away on December 12, 2003.
| | |
| --- | --- |
| | Poetry |
| | Short Story, Novel & Drama |
| | Short Story, Novel & Drama |
| | Literary Studies and Criticism |
| | Humanities & Future Studies |