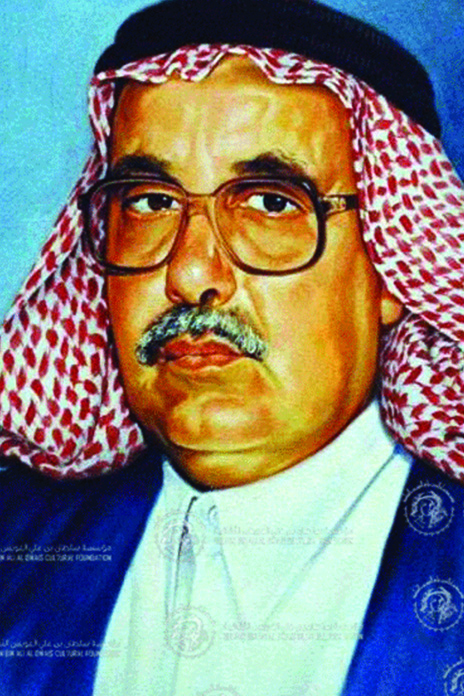 SIXTH SESSION 1998-1999
Literary Studies and Criticism
Painting by : Rama Chandrin (Babu) – India
Born in 1946 in Unaizah, Kingdom of Saudi Arabia.
Attended the Scientific Institute in Unaizah until he finished his secondary education in 1965.
Gained a BA in Arabic Language from the Arabic Language College in Riyadh in 1969.
Obtained a PhD from the University of Exeter in
Taught Criticism and Critical Theory Courses at King Abdul Aziz University (1978-1989), where he established the Faculty of Arts Magazine.
He launched a number of scholarly projects at King Abdul Aziz University such as: the Arabization and Translation Centre and the Scientific Research Centre.
In 1989 he was appointed as Professor of Criticism and Literary Theory at King Saud University.
Served as vice president of the Jeddah Literary Cultural Club, and contributed to many of its cultural projects and initiatives through lectures, symposiums and conferences. In addition to issuing many publications and translations for the Clun, he cofounded "Alamat" magazine, which is a journal specializing in literary criticism and theory. He also oversaw the publishing of numerous scholarly works in the fields of writing and translation and helped organize many of the club's symposiums and conferences.
Contributed to numerous Arab and International cultural symposiums and societies and was a visiting professor at several American universities.
His works have been studied by many scholars, critics and thinkers.
Decision of the General Secretariat  
The Award for Literary Studies and Criticism is granted to Critic Dr. Abdullah Muhammad Al Ghathami in recognition of his critical works, which reflect an extensive knowledge of Arab heritage. His writings succeed in making use of modern contemporary critical theories and also provide a deep understanding of both classical and modern Arab literary texts, without being overwhelmed by the tenets and terminology of critical theory. Despite his profound understanding of post-modern theory, he does not rely on it entirely, but rather looks for its roots in traditional Arab criticism without any bias.
Moreover, Dr. Al Ghathami is keen on maintaining variety in his critical approaches after subjecting each to thorough discussion, analysis and comparison. This is evident in his books, Al Khatee'a Wal Takfeer (Sin and Atonement), Tashreeh Al Nas (The Anatomy of the Text), Al Sawt Al Qadeem Al Jadeed (The Old New Voice), Al Mar'aa Wal Wahm (Women and Illusion), Thaqafat Al Wahm (The Culture of Illusion). Through his diverse books, he has proved himself to be one of the most leading Arab critics who are working diligently and steadily on bringing a new era about for Arab literary criticism; one which looks forward to the horizons of a new century and which is closer to the latest trends in literary theory and critical approaches.
Granted the "Award for Humanities" from the Arab Bureau of Education for the Gulf States in 1985.
Al Khatee'a Wal Takfeer (Sin and Atonement), 1985.
Al Mawqif Min Al Hadatha (On Modernism), 1987.
Tashreeh Al Nas (The Anatomy of the Text), 1987.
Al Sawt Al Qadeem Al Jadeed (The Old New Voice), 1987.
Al Mawqif Min Al Hadatha (The Stance on Modernism), 1987.
Al Kitaba Dhid Al Kitaba (Writing Versus Writing), 1991.
Thaqafat Al As'ila (Culture of Questions), 1992.
Al Qaseeda Wal Nas Al Mudhad (The Poem and the Counter-text), 1994.
Al Mushakala Wal Ikhtilaf (Similarity and Difference), 1994.
Rihla Ila Jumhouriyat Al Nathariyya (A Trip to the Republic of Theory), 1995.
Al Mar'a Wal Lugha (Women and Language), 1996.
Thaqafat Al Wahm (The Culture of Illusion), 1998.
Ta'neeth Al Qaseeda Wal Qari' Al Mukhatlif (Feminizing the Poem and the Different Reader), 1999.
Hikayat Al Hadatha fil Mamlaka Al Arabiyya Al Saudiyya (Modernism in the Kingdom of Saudi Arabia), 2004.
Min Al Khayma Ila Al Watan (From the Tent to the Homeland), 2004.
Al Qabila wal Qab'iliya aw Hawiyyat Ma Ba'd Al Hadatha (The Tribe and Tribalism: Post-Modernist Identities), 2009.
Al Libraliyya Al Jadeeda, As'ila fil Hurriyya Wal Tafawudiyya Al Thaqafiyya (Neoliberalism: Questions of Cultural Freedom and Negotiation), 2012.
Al Jahniyya: Fi Lughat Al Nisa' Wa Hikayatihun (Al Jahniyya: On the Languages and Tales of Women), 2012.
Thaqafat Twitter: Hurriyat Al Ta'beer aw Mas'uliyyat Al Ta'beer (Twitter Culture: Freedom of Expression and Responsibility), 2016.