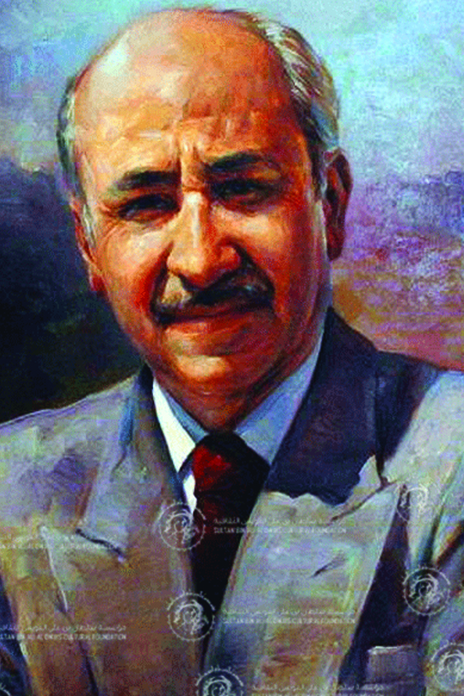 SIXTH SESSION 1998-1999
Short Story, Novel & Drama
Painting by : Ali Al-Mimar – Iraq
Born in Baghdad in 1927.

Born into a middle-class family.

Attended Bab Al Sheikh Elementary School for Boys.

Studied at the Faculty of Law (Iraq) and graduated from it in 1949.

Was appointed as an employee at the Courts of Baquba city (1949-1952).

Began writing short stories and plays early on in his life (1943).

Was appointed as a Judge in the Civil Courts, Baghdad (1965).

Travelled to France to study law and stayed there for two years, and became more occupied with following up on various literary and artistic movements than pursuing his legal studies. He remained in his post until 1983.

Moved to Tunisia in 1990.

Wrote for several Arab publications in London and published many short stories, plays and articles on narrative writing and on his memories in the London-based "Al Hayat", "Al Zaman", "Al Sharq Al Awsat" and "Al Wasat" magazines.

Participated in numerous conferences and symposiums in Iraq, the Arab world and some European countries.
Decision of the General Secretariat   
The Award for the "Short Story, Novel and Drama" category is granted to novelist Fuad Sa'eed Al Takarli in recognition of his contribution as a writer. He gives great attention to his artistic tools and he is always keen on the integrity of his cultural, intellectual and artistic stances. The Jury recognizes Al Takarli as one of the most prominent Arab novelists. Thanks to his unique creative style, Al Takarli has established himself in this genre in Iraq since his first short story collection Al Oyoun Al Khudr (The Green Eyes), published in 1950.
He gained wide popular and critical acclaim in the Arab world and contributed greatly to the Arab literary scene through his novel Al Raj' Al Ba'eed (The Long Way Back.), published in 1980. Al Takarli's prolific writing career culminated in Al Awja' wal Masarrat (Pains and Joys), published in 1998, which is one of the better Arabic novels that can deservedly be considered a major work.
Al Wajh Al Akhar (The Other Face)
Al Raj' Al Ba'eed (The Long Way Back.)
Maw'id Al Nar (The Fire Time)
Al Kaf (The Palm)
Khatam Al Raml (The Sand Ring)
Al Awja' wal Masarrat (Pains and Joys)
Al Sakhra (The Rock)
Basqa fi Wajh Al Hayat (A Spit in the Face of Life)
He passed away on February 11, 2008.