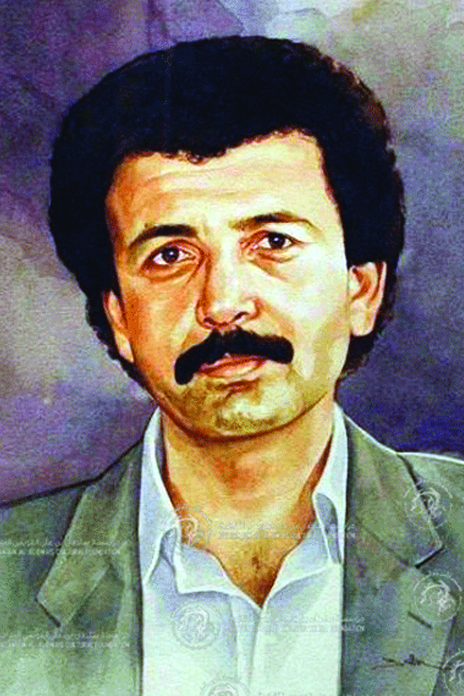 FIFTH SESSION 1996-1997
Poetry
Painting by : Rama Chandren (Babu) – India
Born in Amman, Jordan in 1954.

Some of his works were translated into a number of foreign languages such as English, German and Russian.

He succeeded in establishing himself among Arab poets since the 1980s and developed his poetic techniques in a relatively short time.

He wrote vernacular poetry at the beginning of his literary career, before switching to standard Arabic in his writings, which included poems as well as popular and patriotic songs. He also wrote a number of novels and took up painting. He participated in a number of personal and public exhibitions.

He participated in numerous poetry festivals and literary symposiums in various Arab countries.
Decision of the General Secretariat : 
The poetry of Ibrahim Nasrallah is characterized by an innovative structure that departs from traditional patterns yet maintains some of the aesthetic characteristics of its form. He remains committed to Arab causes, especially the Palestinian cause, which tackles with a great insight and depth.
His writing offers a satirical critical outlook that is intertwined with drama and a broad semantic scope that aids him in delivering his message to the audience.
Three-time winner of the Jordanian Writers Association Award (Best Poetry Collection).

Arar Literary Award for his complete body of poetic work (1991).

Tayseer Sboul Award for entire body of literature (1994).

Jerusalem Award for Culture and Creativity (2012).

International Prize for Arabic Fiction (IPAF) for his novel, "Harb Al Kalb Al Thaniyah" (The Second War of The Dog) in 2018.
"Al Khuyul Ala Masharif Al Madina" (Horses are Overlooking the City)

"Al Matar fil Dakhil" (The Rain Inside)

"Al Hiwar Al Akheer Qabla Maqtal Al Usfoor Bidaqa'ek" (The Last Dialogue a Few Minutes Before the Killing of the Sparrow)

"No'man Yastarid Lawnahu" (Noaman Recovers His Color)

"Anasheed Al Sabah" (Morning Songs)

"Al Fata Al Nahr  Wal General" (The River Boy and The General)

"Awasef Al Qalb" (Storms of the Heart)

"Hatab Akhdar" (Green Firewood)

"Fadihat Al Tha'lab" (The Fox's Scandal)

"Al A'mal Al Shi'riyya , Mujallad" (Volume of Poetic Works)

"Shurufat Al Khareef" (Verandahs of Autumn)

"Kitab Al Mawt Wal Mawta" (The Book of Death and the Dead)
Novels
Barari Al Humma (Prairies of Fever)
Aw (The Barking Dog)
Mujarad 2 Faqat (Just the Two of Us)
Tuyoor Al Hathar (Birds of Caution)
Haris Al Madeena Al Da'ea  (The Watchman of the Lost City)
Al Amwaj Al Barriyyah (Terrestial Waves)
Zaman Al Khuyool Al Bayda' (Time of White Horses)
Qanadeel Malik Al Jaleel (Lanterns of The King of Galilee)
Harb Al Kalb Al Thaniya (The Second War of the Dog)