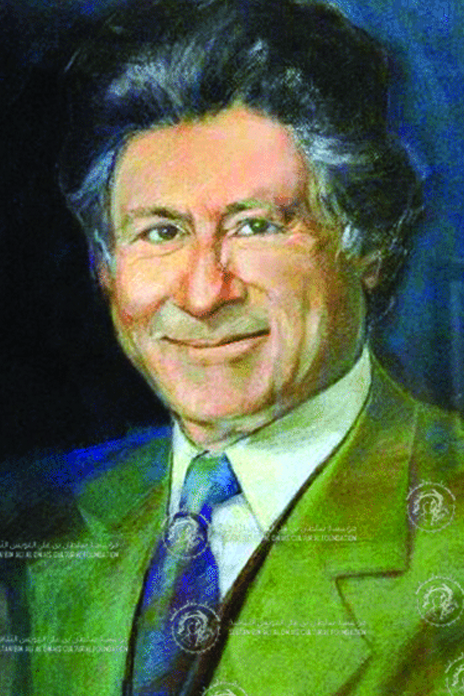 FIFTH SESSION 1996-1997
Cultural & Scientific Achievments

Painting by artist: Mohamed Fahmy – Iraq
Born in Jerusalem, Palestine, in 1935

Migrated with his family to Egypt in 1948.

Wrote his first article after the Suez crisis.

Joined the Palestinian National Council (PNC) in 1977 after publishing his important work The Question of Palestine

His office witnessed many vandalism attacks after he had been labeled as Professor of Terrorism

Resigned from PNC in 1991.

Condemned Iraqi invasion of Kuwait and the military action against Iraq.

Condemned the Gaza-Jericho Peace Agreement and refused to attend the ceremony in the White House

Translated the famous speech by President Arafat before the UN's General Secretariat on November 13, 1974

Translated Palestine Independence Announcement, 1988
Academic Qualifications
Studied at Saint George School, Jerusalem, Palestine

Joined Victoria College, Cairo, Egypt.

Attended Harmon Mountain School, Harmon Mountain, Massachusetts

BA, History and English Language, Princeton University, USA, 1957.

MA in Literature, Harvard University (taught comparative literature  by Harry Levin), 1960.

PhD in English Literature, Harvard University (Thesis on Joseph Conrad), 1964.

In addition to Arabic, spoke English, French, Spanish, German, Italian and Latin
Work Experience
General Education Lecturer, Harvard University, 1959-1961.

Lecturer of History and Literature, Adams House, Harvard University, 1961-1963.

Supervisor of English, Colombia University, 1963-1965.

Assistant Professor of English, Colombia University, 1965-1967.

Advanced Studies Centre Associate, Illinois University, 1967-1968.

Associate professor of English and Comparative Literature, Colombia University, 1968-1970.

Professor of English and Comparative, Colombia University, 1970-1977.

Centre of Advanced Behaviorism Studies Associate, Stanford University, 1975-1976.

Manager of Criticism Courses at NUH, 1978.

Visiting Professor of Humanities, Hopkins University, 1979.

Chairman of PhD in Comparative Literature, Colombia University, 1982.

Visiting Professor of Comparative Literature, Bell University, 1985.

Visiting Professor, Toronto University, 1986.

Professor of Humanities, Colombia University, 1989.
Decision of the General Secretariat : 
The Board of Trustees' decision that Dr. Edward Said is a qualified nominee to win the award is based on his being one of the most dedicated Arab thinkers who have consistently shed light on many of the most urgent and vital causes and issues of concern to the Arab world in General and who have highlighted the Palestinian cause in particular. At the same time, Dr. Said is a specialized critic, academic professor, diligent scholar and prolific author who has helped carry forth the Palestinian voice to international circles.
Throughout Dr. Said's career and personal life he was a walking example of a responsible and cultured Arab individual who faced the enemies of his nation with reasoning and rationale both through his lectures and researches, Within the framework of his work as a professor in the University of Columbia, he was a defender of freedom and democracy and of Islamic culture. He stood against state terror in all its forms, and supported human values everywhere. His academic ethics never conflicted with his principals, values or his faith in his Arab identity and homeland.
Dr. Said's various researches have revealed many crucial facts over many years of Arab Israeli conflict, and have put a special focus on the Palestinian identity and the problem of belonging in exile in the absence of the homeland. This, he has argued, is the main problem that has faced the Palestinian people following the Palestinian diaspora in 1948.
Phi Beta Kappa, Princeton University, 1957.

Woodrow Wilson Associate Professor, Harvard University, 1958.

Bowden Award, Harvard University, 1963.

Best Essay Award, National Council of Literature and Arts, 1969.

Guggenheim Associate Professor, 1972-1973.

Lionel Trilling Award, Colombia University, 1976.

Criticism Award, National Book of Critics, 1979.

Rene Award of Literary Award, 1984-1985.

Janette Le Stevens Award, Pennsylvania University, 1987.

Lionel Trilling Award, Colombia University, 1994.

UNESCO Picasso Medal, 1994.

MoNio Award, Italy, 1995.

Islamic Information Award, 1996.
Intention and Method

Orientalism

The Question of Palestine

Covering Islam

The World

After the Last Sky

Blaming the Victims

Musical Elaborations

Peace in the Middle East

Culture and Imperialism

He also authored many other researches and books that were published in academic journals around the world.
He died on September 25, 2003.