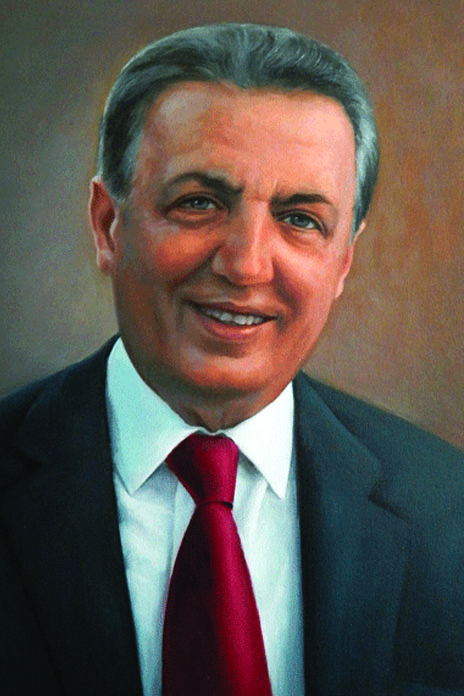 Born in 1951 in Ziqeen Village, Southern Lebanon.
Received his early education in the village school and attended a secondary school in Sour, Lebanon.
In 1973, he obtained a Proficiency Certificate with honors in Arabic Language and Literature for a critical study titled, "The Poetry of Palestinian Resistance in Contemporary Arabic Criticism).
His early poems were published in the early 1970s in many Lebanese and Arab journals and newspapers, such as: "Mawaqef", "Al-Aadab", "Al-Safeer" and "Al-Nahar" among others.
He participated in numerous Arab poetry conferences, symposiums and festivals including Jerash, "Al Mahaba", "Al-Jenadriyah", "Al Emarat", "Cairo International Book Fair", "Carthage" and "Rabat" among others.
He worked as a teacher from 1974 to 1989 before becoming a Consultant for the Ministry of Information in Lebanon.
He was appointed as Head of the Cultural Section in "Al Safeer" newspaper. He is also a regular contributor to many Arab newspapers.
Many studies were written about his poetry by critics and researchers.
His poems have been translated into a number of languages, including English, French, German and Farsi.
He received several awards, including:
– First Prize for Poetry (Lebanese University) in 1972.
– Mohammed Saleh Basharahil Award for Creativity and Culture in 2004.
– Okath Poet Award for 2010.
Some of his most famous publications include:
– "Anaaween Saree'a Li Watan Maqtoul" (Quick Addresses for a Murdered Homeland) 1978
– "Al Raheel Ila Shamsi Yathrib" (Departing to Yathrib's Sun) 1981
– "Ughniyat Hob Ala Nahr Al Litani" (Love Songs at the Litani River) 1985
– "Wardat Al Nadam" (Flower of Regret) 1990
– "Marthiyat Al Ghubar" (Elegy of Dust) 1992
– "Ka'ani Gharibuki Baynal Nisa'" (I Am A Stranger to You Among Women) 1995
– "Qumsan Youssef" (Youssef's Shirts) 1996
– "Shahwat Mubakkira" (Early Lust) 1998
– "Faradees Al Wahsha" (The Paradises of Estrangement) 1999
–  "Jabal Al Barouk" (Mount Barouk) 2002
–  "Sarab Al Mathna" (A Pair's Mirage) 2003
–  "Sirakh Al Ashjar" (The Screams of Trees) 2007
– "La Shay' min Kuli Hatha" (Nothing Out of All This) 2008
– "Abwab Khalifa" (Khalifa's Doors) 2005 – prose
– "Hijrat Al Kalimat" ( The Migration of Words) 2009 – prose
– "Farashat Libtisamat Butha" (Butterflies for Buddha's Smile" 2014
– "Ela Ayna Ta'khuthuni Ayyuhal Shi'r" (O' Poetry, Where Do You Take Me?) 2015
Contact number: 03-371095