The search engine has marked what would have been Shaarawi's 141st birthday with a sketch
Google dedicated its Tuesday Doodle to pioneering Egyptian feminist Huda Shaarawi in honour of what would have been her 141st birthday.
Those using the search engine on Tuesday, June 23 will be met with a powerful sketch of Shaarawi against a yellow background, set among other powerful women from around the world.
Shaarawi was a feminist leader in Egypt and founder of the Egyptian Feminist Union. Here is what you need to know about her.
Who was Huda Shaarawi?
Born Nour Al-Huda Mohamed Sultan Shaarawi on June 23, 1879, in the Egyptian city of Minya, she was a member of the famous El-Shaarwi family. Her father, Muhamed Sultan Pasha El-Shaarawi, later became the president of Egypt's Chamber of Deputies.
Shaarawi grew up studying extensively, learning several languages as well as receiving tutoring in Quranic Arabic and Islamic subjects by female teachers in Cairo. She was also a keen poet, writing in both Arabic and French.
From young feminist to activist
From a young age, Shaarawi resented restrictions on women's movements in Egypt, and spent time organising lectures for women on various topics she thought would be of interest to them. These lectures brought many women together outside of the home for the first time, and Shaarawi used the opportunity to establish a women's welfare society to raise money for poor women in the country. In 1910, Shaarawi opened a school for girls where she focused on teaching academic subjects rather than practical skills.
The Egyptian Revolution
Shaarawi played a key role in the Egyptian Revolution of 1919, leading women protestors advocating for Egyptian independence from Britain and the release of male nationalist leaders. Her husband, Ali Pasha Shaarawi, was elected as acting vice president of the nationalist liberal Wafd party and kept her well informed of developments during the revolution so she could take his place if he were to be arrested. Shaarawi used this knowledge to form the Wafdist Women's Central Committee (WWCC) in 1920, of which she was elected as its first president.
Following the death of her husband in 1922, Shaarawi attended the International Woman Suffrage Alliance Congress in Rome. Upon her return, she removed her veil in public and trampled it at her feet, a controversial move that acted as a significant moment in Egyptian feminist history. While many women were shocked, others followed suit.
The Egyptian Feminist Union
In 1923, Shaarawi founded and became the first president of the Egyptian Feminist Union (EFU). Characteristic of liberal feminism in the early twentieth century, the EFU sought to reform laws restricting personal freedoms, such as marriage, divorce, and child custody.
In 1924, alongside the EFU, she led women's nationalist and feminist demands at the pickets at the opening of Parliament, which were largely ignored by the Wafdist government, leading to her resignation from the WWCC.
In 1945, she received the Order of the Virtues in Egypt, and she continued to lead the EFU until her death in December 1947.
Take a look through some other regional Google Doodles: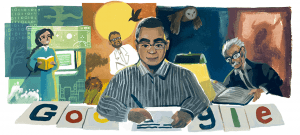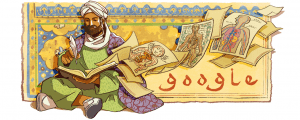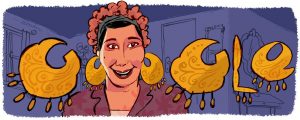 www.thenational.ae