In the vast, shade-dappled atrium of Egypt's new Grand Egyptian Museum, construction work surrounded a colossal statue of Ramses II, his left foot striding forward and fists clenched in readiness.
Staff welcoming visiting journalists doled out assurances that the towering ancient sculpture was safe from the ongoing building works. On its journey to the new museum last year, the statue was accompanied by 11 horsemen in military dress, amid the sounds of the Egyptian national anthem.
If promises of the museum's imminent completion hold true, the 83-tonne depiction of the third pharaoh of the 19th dynasty of Egypt, also known as Ozymandias, will be the first sight that greets visitors as they enter the 500,000 sq metre museum next year. At more than nine metres tall, the statue almost reaches the vaulted ceiling of the cement structure that is expected to house 100,000 objects, many of which will be displayed for the first time, as well as a 250-seat 3D cinema and children's museum. It will also have a panoramic view of the Great Pyramids of Giza. But when will it open?
The $1bn museum has been plagued by delays since it was first scheduled to open in 2015, a decade after it was conceived. As construction workers filled the atrium and put finishing touches to intricate lattice-work panels that form the building's front flank, officials said the project was almost finished. Local media recently extolled official claims that the museum will open by 2020.
"The Grand Egyptian Museum is a gift from Egypt to the whole world," said minister of antiquities, Khaled el-Enany, echoing a slogan used to promote the opening of a second Suez Canal channel in 2015, amid claims the mega-project would revitalise Egypt's economy. Officials said they hoped the Grand Egyptian Museum would attract five million visitors every year, helping to boost tourism and, in turn, the country's finances.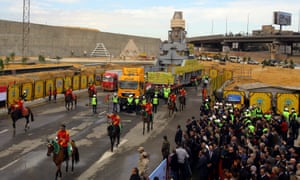 The project's engineers claim the insulated concrete design overcomes the challenge of desert temperatures, where the roof can easily heat up to 70C, keeping the interior and its precious contents at a stable 23C.
The building will supersede the world-famous Egyptian Museum, sometimes called the Museum of Cairo, which was built in the centre of the city in 1901 and currently houses the world's largest collection of Pharaonic antiquities, including the iconic gold funeral mask of Tutankhamun.
The new museum will contain 7,000 sq metres dedicated to the boy-king, with the 5,400 objects retrieved from his tomb (discovered by Howard Carter in 1922) displayed together for the first time, including his three coffins and the funeral mask.
One large gold-plated coffin was removed from Tutankhamun's tomb in Luxor's Valley of the Kings in July for the first time since its discovery, and trucked to Cairo for vital restoration work before display.
"It was a delicate project, as the coffin is very fragile," said El-Enany, stood in front of the gilded sarcophagus where it lay inside the conservation laboratory adjoining the museum. "We expect that it will take eight or nine months to reach a good enough state to display it by 2020."